Microsoft 365 Messaging MS-203 Exam Questions
MS-203 Microsoft 365 Messaging is a new single exam instead of MS-200 and MS-201 exams,you will earn Microsoft 365 Certified: Messaging Administrator Associate certification if you passed Microsoft MS-203 exam. PassQuestion provides the latest Microsoft 365 Messaging MS-203 Exam Questions which not only cover all the main and important MS-203 knowledge, but also MS-203 real questions and answers for you to practice. You are guaranteed to pass your MS-203 Microsoft 365 Messaging Exam with ease on your first attempt.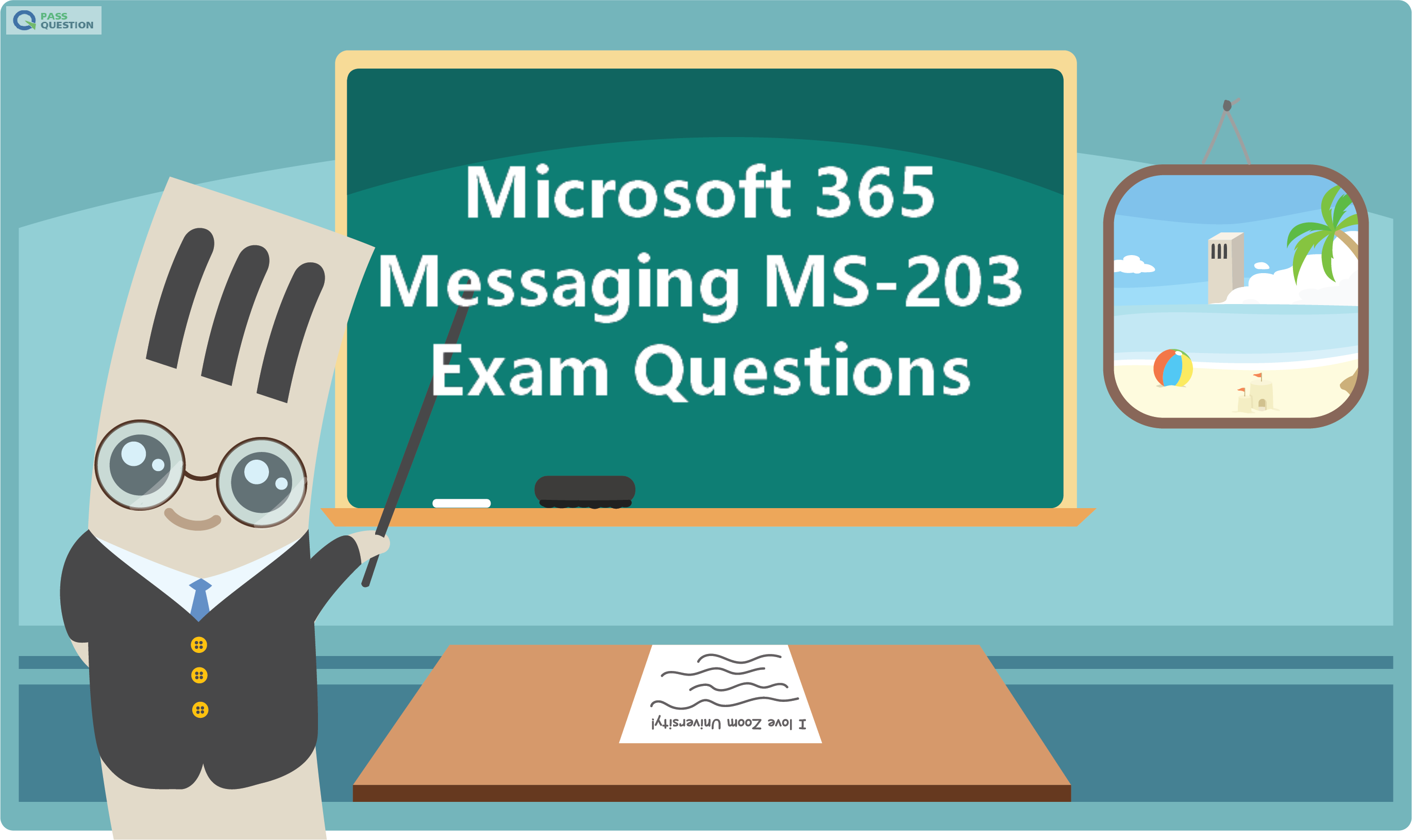 MS-203 Exam Overview - Microsoft 365 Messaging
Candidates for this exam are Messaging Administrators who deploy, configure, manage, troubleshoot, and monitor recipients, permissions, mail protection, mail flow, and public folders in hybrid and cloud enterprise environments.Messaging Administrators are responsible for managing hygiene, messaging infrastructure, hybrid configuration, migration, transport, mailboxes, and client access.
Messaging Administrators collaborate with the Security Administrator and Microsoft 365 Enterprise Administrator to implement a secure hybrid or cloud-only topology that meets the business needs of an enterprise.The Messaging Administrator should have a working knowledge of authentication types, licensing, and integration with Microsoft 365 applications.
Exam Domain Covered In MS-203 Test
Manage organizational settings and resources (30-35%)
Plan and manage the mail architecture (20-25%)
Plan and implement a hybrid configuration and migration (20-25%)
Secure the messaging environment (20-25%)
Manage Organizational Settings and Resources
Plan and manage organizational settings
Manage Global Address List (GAL)
Manage Offline Address Book (OAB)
Manage address book policies
Manage email address policies
Configure organizational sharing
Manage add-ins
Plan and manage client access
Plan namespaces
Configure virtual directories and URLs
Configure global Outlook Web App (OWA) policies
Configure Autodiscover
Troubleshoot client access connectivity problems
Manage Exchange certificates lifecycle
Manage recipient resources
Manage archive mailboxes
Manage resource mailboxes
Manage groups (Distribution, Security, and Office 365)
Manage mailboxes
Manage mailbox permissions
Configure mailbox policies
Manage shared mailboxes
Evaluate license options
Manage mail users
Manage mobile devices
Configure mobile device mailbox policies
Configure mobile authentication methods
Configure and manage Outlook mobile
Manage mobile device access
Configure and manage ActiveSync
Plan and Manage the Mail Architecture
Plan and configure transport architecture
Plan connectors
Create and configure connectors
Configure connectors between tenants
Manage mail flow
Manage transport rules
Manage domains
Manage hybrid mail flow
Troubleshoot mail flow
Validate inbound and outbound mail flow
Trace a message
Analyze a message trace
Analyze message headers
Analyze Non-Deliverable Reports (NDRs)
Investigate transport logs
Nonitor Mail Flow
Plan and Implement a Hybrid Configuration and Migration
Plan and implement a hybrid environment
Evaluate and configure hybrid free/busy access (NOT: ADFS, WAP and Not Azure AD Connect, IdFix because they belong to the Modern Desktop Admin)
Decide between Exchange Classic Hybrid and Exchange Modern Hybrid
Manage the Edge server role
Configure Organization Configuration Transfer (OCT)
Plan and configure the environment by using the Hybrid Configuration Wizard (HCW)
Deploy the Exchange Hybrid Agent
Plan and implement migration
Evaluate migration methods, including cutover, staged, PST Imports, IMAP, G-Suite
Configure migration endpoints in Microsoft 365, including tenant-to-tenant
Manage mailbox migration request batches
Migrating from non-Microsoft messaging systems (NOT: not on-prem solutions)
Troubleshoot mailbox migration
Manage public folders
Move content between public folder mailboxes
Create additional public folder mailboxes
Implement public folder Top Level Hierarchy (TLH)
Implement mail-enabled public folders
Plan and configure public folders
Manage hold and discovery for public folders
plan a public folder migration to Microsoft 365
Secure the Messaging Environment
Manage role-based permissions
Manage role groups
Assign user accounts to admin roles
Manage user roles
Manage a delegated Role-based Access Control (RBAC) setup
Plan RBAC roles for eDiscovery
Manage message hygiene using Exchange Online and Office 365 Advanced Threat Protection (ATP)
Plan for message hygiene
Manage connection filters
Configure malware filters
Configure spam filters
Monitor quarantined items
Manage protection for phishing
Plan and configure Spam Confidence Levels (SCL)
Configure and manage ATP safe attachments
Configure and manage ATP safe links
Configure and manage ATP anti-phishing
Manage compliance
Configure retention policies
Configure data loss prevention policies
Configure and analyze audit logs
Manage journal rules
Manage content search
Manage litigation, in-place, and retention holds
TOP 50 Exam Questions

Exam