HPE0-V14 Dumps - Building HPE Hybrid IT Solutions
HPE0-V14 Building HPE Hybrid IT Solutions exam is available at PassQuestion. PassQuestion provides you the highest quality HPE ATP HPE0-V14 Dumps which will help you pass your exam successfully. PassQuestion will also help you well consolidate the related IT professional knowledge to let you have a good preparation for your first time to participate in HPE ATP - Hybrid IT Solutions V2 HPE0-V14 Exam.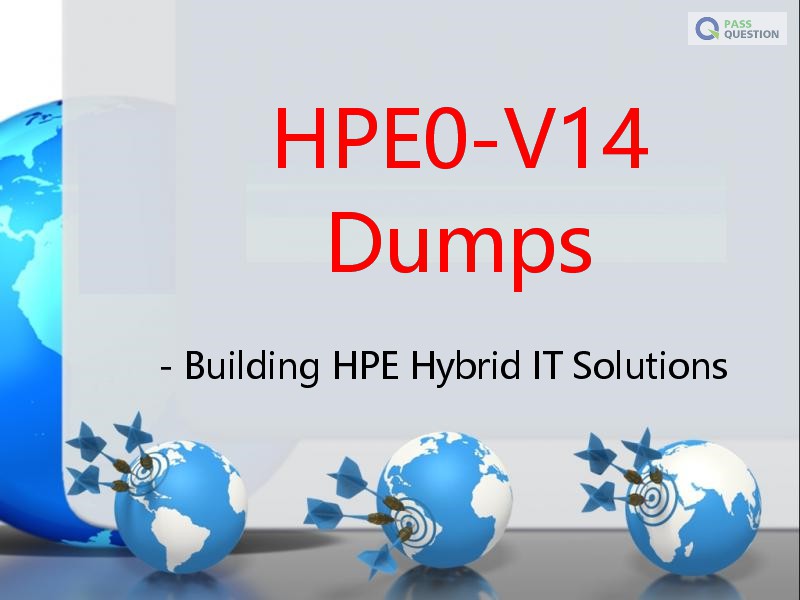 HPE0-V14 Exam Description - Building HPE Hybrid IT Solutions
This ATP certification validates a successful candidate has foundational knowledge and skills of the HPE infrastructure strategy, encompassing SMB server, storage, networking, and management tools and their underlying architecture technologies. Given a set of customer requirements and a solution design, implement the solution.

Ideal Candidate For This Exam
The ideal candidate has a minimum of twelve months hands-on experience or equivalent in at least one of the core HPE areas (Server, Storage, and Networking) and six months experience or equivalent in other HPE SMB solutions and foundational technologies.
The candidate assists with the design and participates in the demonstration/proof of concept, integration, and administration aspects of foundational HPE solutions.
HPE ATP - Hybrid IT Solutions V2 HPE0-V14 Exam Topics

View HPE0-V14 Free Questions From PassQuestion HPE ATP HPE0-V14 Dumps
1.A security client needs a surveillance solution to support 239 Cameras. They expect to generate 2PB of data and require a 10Gb network infrastructure in a single rack.
Which solution should you recommend to meet the customer requirements?
A. HPE Moonshot
B. HPE MSA
C. HPE Apollo Servers
D. HPE SimplVity 380
Answer: C
2.Refer to the exhibit.

A customer has been using VEEAM and the HPE StoreOnce 3620 shown in the exhibit to backup their environment. The customer's legal team has asked to double their retention times for all backup sets, and they are starting to run out of space on the StoreOnce.
Which options could you recommend that the customer add to their existing configuration to accommodate the new requirement? (Select two. Each option represents a separate solution.)
A. HPE StoreOnce Cloud Bank Storage
B. HPE StoreOnce 3620 24TB Capacity Upgrade Kit
C. HPE StoreOnce Gen4 16Gb Fibre Channel Network Card
D. HPE StoreOnce Gen4 10/25Gb SFP Network card
E. HPE D3710 Storage Enclosure
Answer: BD
3.A customer needs NFS access on a fiber channel array.
What must be included in the solution to meet this requirement?
A. StoreEver
B. Storage File Controller
C. Smart Array Controller 
D. StoreOnce RMC
Answer: B
4.What is the correct cable type to use when connecting a pair of switches using Long Range (LR) Transceivers?
A. Direct Attach Cable (DAC)
B. Twin-Ax
C. Single Mode Fiber
D. Multi-mode Fiber
Answer: C
5.When is it appropriate for a customer to implement HPE OneView Standard?
A. To manage multiple servers
B. To monitor their services
C. To enable the Advanced iLO license
D. To update firmware
Answer: B
6.You are creating a configuration for a new Nimble HF40 array.
Which tool should you use to ensure that you include adequate cache in the configuration?
A. HPE NinjaSTARS
B. HPE Storage Sizer
C. HPE OneView
D. HPE SPOCK
Answer: A
TOP 50 Exam Questions

Exam