CTFL_SYLL_4.0 Exam Questions - ISTQB Certified Tester Foundation Level (CTFL)
CTFL 4.0 certification is the most up-to-date and comprehensive version available for the ISTQB Certified Tester Foundation Level (CTFL) exam. If you are aiming to achieve the CTFL 4.0 certification, make sure to take advantage of the valuable resources offered by PassQuestion. Their CTFL_SYLL_4.0 Exam Questions will not only help you pass the exam but also equip you with the necessary knowledge and skills to excel in your career. The CTFL_SYLL_4.0 Exam Questions from PassQuestion provide you with ample opportunities to practice and refine your skills. With their help, you can gain the confidence and proficiency needed to pass your exam with ease.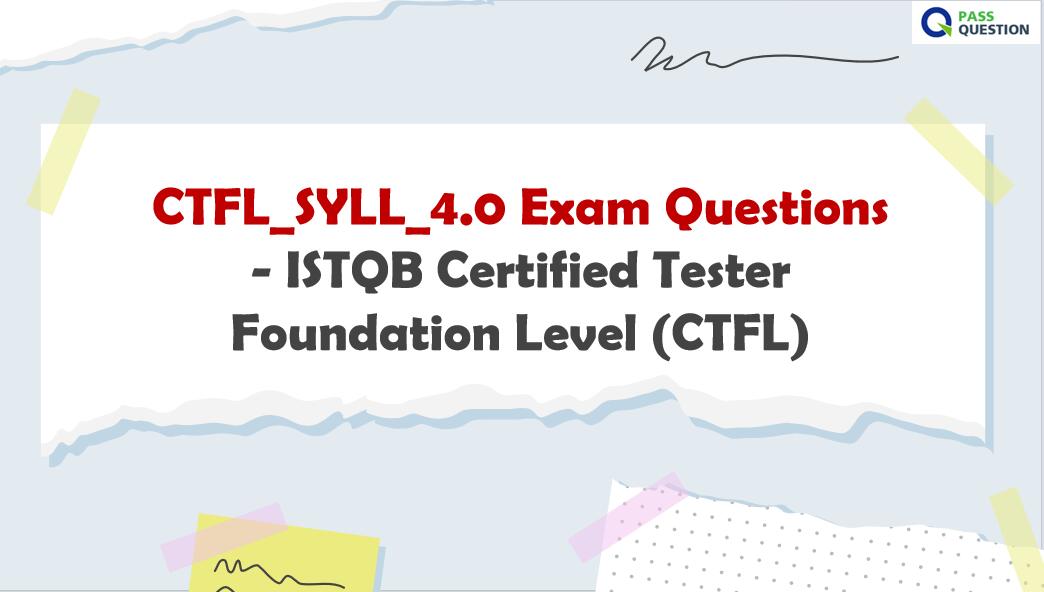 Certified Tester Foundation Level (CTFL) v4.0
The ISTQB Certified Tester Foundation Level (CTFL) certification is the cornerstone of essential testing knowledge that can be applied to real-world scenarios. The syllabus provides a comprehensive understanding of the terminology and concepts used in the testing domain worldwide, making it relevant for all software delivery approaches and practices, including Waterfall, Agile, DevOps, and Continuous Delivery. CTFL certification is recognized as a prerequisite to all other ISTQB certifications where Foundation Level is required.
Audience Profile
The CTFL 4.0 certification is suitable for individuals who need to demonstrate practical knowledge of the fundamental concepts of software testing. It is applicable to various roles including testers, test analysts, test engineers, test consultants, test managers, user acceptance testers, and software developers. Moreover, it is relevant for those who require a basic understanding of software testing, such as project managers, quality managers, software development managers, business analysts, IT directors, and management consultants.
With the ISTQB Certified Tester Scheme, professionals in the field of testing can benefit from the wide range of knowledge available and have the opportunity to pursue higher-level software testing qualifications like the Core Advanced Levels, Specialist, and Expert Level certifications.
CTFL 4.0 Certification Exam Objectives
1. Fundamentals of Testing
1.1. What is Testing?
1.2. Why is Testing Necessary?.
1.3. Testing Principles
1.4. Test Activities, Testware and Test Roles
1.5. Essential Skills and Good Practices in Testing
2. Testing Throughout the Software Development Lifecycle
2.1. Testing in the Context of a Software Development Lifecycle
2.2. Test Levels and Test Types
2.3. Maintenance Testing
3. Static Testing
3.1. Static Testing Basics
3.2. Feedback and Review Process
4. Test Analysis and Design
4.1. Test Techniques Overview
4.2. Black-Box Test Techniques
4.3. White-Box Test Techniques
4.4. Experience-based Test Techniques
4.5. Collaboration-based Test Approaches
5. Managing the Test Activities
5.1. Test Planning
5.2. Risk Management
5.3. Test Monitoring, Test Control and Test Completion
5.4. Configuration Management
5.5. Defect Management
6. Test Tools
6.1. Tool Support for Testing
6.2. Benefits and Risks of Test Automation
View Online ISTQB Certified Tester Foundation Level (CTFL) CTFL_SYLL_4.0 Free Questions
1. Which of the following statements about static testing and dynamic testing is true?
A.Unlike dynamic testing, which can be also performed manually, static testing cannot be performed without specialized tools
B.Static testing is usually much less cost-effective than dynamic testing
C.Unlike dynamic testing, which focuses on detecting potential defects, static testing focuses on detecting failures which may be due to actual defects
D.Both static testing and dynamic testing can be used to highlight issues associated with non-functional characteristics
Answer: D
2. A new web app aims at offering a rich user experience. As a functional tester, you have run some functional tests to verify that, before releasing the app, such app works correctly on several mobile devices, all of which are listed as supported devices within the requirements specification. These tests were performed on stable and isolated test environments where you were the only user interacting with the application. All tests passed, but in some of those tests you observed the following issue: on some mobile devices only, the response time for two web pages containing images was extremely slow.
Based only on the given information, which of the following recommendation would you follow?
A.You should open a defect report providing detailed information on which devices and by running which tests you observed the issue
B.The issue is related to performance efficiency, not functionality. Thus, as a functional tester, you should not open any defect report as all the functional tests passed
C.You should not open any defect report as the problem is most likely due to poor hardware equipment on the devices where you observed the issue
D.You should not open any defect report and inform the test manager that the devices on which you observed the issue should no longer be supported so that they will be removed from the requirements specification
Answer: A
3. Which of the following statements about white-box test techniques is true?
A.Achieving full statement coverage and full branch coverage for a software product means that such software product has been fully tested and there are no remaining bugs within the code
B.Code-related white-box test techniques are not required to measure the actual code coverage achieved by black-box testing, as code coverage can be measured using the coverage criteria associated with black-box test techniques
C.Branch coverage is the most thorough code-related white-box test technique, and therefore applicable standards prescribe achieving full branch coverage at the highest safety levels for safety-critical systems
D.Code-related white-box test techniques provide an objective measure of coverage and can be used to complement black-box test techniques to increase confidence in the code
Answer: D
4. Which of the following statements refers to good testing practice to be applied regardless of the chosen software development model?
A.Tests should be written in executable format before the code is written and should act as executable specifications that drive coding
B.Test levels should be defined such that the exit criteria of one level are part of the entry criteria for the next level
C.Test objectives should be the same for all test levels, although the number of tests designed at various levels can vary significantly
D.Involvement of testers in work product reviews should occur as early as possible to take advantage of the early testing principle
Answer: D
5. Which of the following statements about the value of maintaining traceability between the test basis and test work products is not true?
A.Traceability can be useful for assessing the impact of a change to a test basis item on the corresponding tests
B.Traceability can be useful for determining how many test basis items are covered by the corresponding tests
C.Traceability can be useful for determining the most suitable test techniques to be used in a testing project
D.Traceability can be useful to support the needs required by the auditing of testing
Answer: C
TOP 50 Exam Questions

Exam