Azure Administrator AZ-103 Practice Test Questions
AZ-103 is the new exam of Microsoft Azure Administrator replacement of AZ-100 and AZ-101 exams,if you want to earn Microsoft Certified: Azure Administrator Associate certification, you can take AZ-103 exam or transition exam AZ-102 for learners who had already passed Exam 533 Implementing Microsoft Azure Infrastructure Solutions.Passquestion provides Azure Administrator AZ-103 Practice Test Questions to study and 100% pass your Microsoft AZ-103 Exam easily in your first attempt.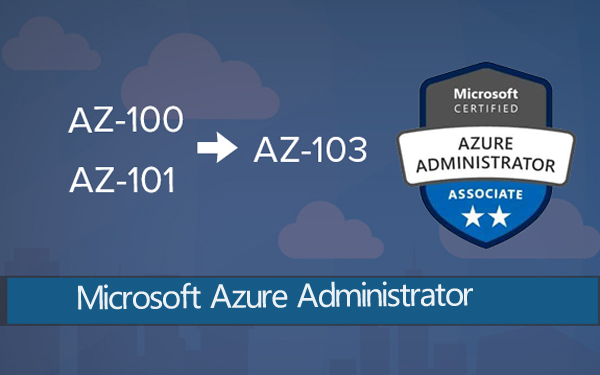 AZ-103 Microsoft Azure Administrator certification exam tests and validates your expertise as an Azure Administrator. This exam tests your expertise in managing cloud services that span compute, networking, storage, security, and other cloud capabilities within Microsoft Azure.
Skills And Objectives Measured On The AZ-103 Exam
Manage Azure subscriptions and resources (15-20%)
Implement and manage storage (15-20%)
Deploy and manage virtual machines (VMs) (15-20%)
Configure and manage virtual networks (30-35%)
Manage identities (15-20%)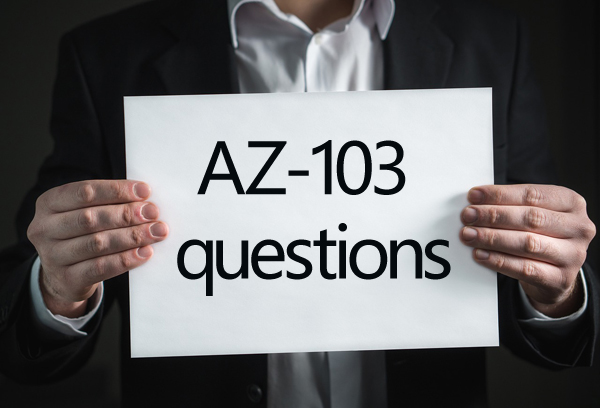 Share Azure Administrator AZ-103 Exam Questions With Answers:
1.You plan to automate the deployment of a virtual machine scale set that uses the Windows Server 2016 Datacenter image.
You need to ensure that when the scale set virtual machines are provisioned, they have web server components installed.
Which two actions should you perform? (Each correct answer presents part of the solution. NOTE Each correct selection is worth one point.)
A. Modify the extensionProfile section of the Azure Resource Manager template.
B. Create a new virtual machine scale set in the Azure portal.
C. Create an Azure policy.
D. Create an automation account.
E. Upload a configuration script.
Answer: A, E
2.You have an Azure subscription that contains a virtual machine named VM1. VM1 hosts a line-of- business application that is available 24 hours a day.
VM1 has one network interface and one managed disk. VM1 uses the D4s_v3 size.
You plan to make the following changes to VM1:
- Change the size to D8s_v3.
- Add a 500-GB managed disk.
- Add the Puppet Agent extension.
- Attach an additional network interface.
Which change will cause downtime for VM1?
A. Add a 500-GB managed disk.
B. Attach an additional network interface.
C. Add the Puppet Agent extension.
D. Change the size to D8s_v3.
Answer: D
3.You have two subscriptions named Subscription1 and Subscription2. Each subscription is associated to a different Azure AD tenant.
Subscription1 contains a virtual network named VNet1.VNet1 contains an Azure virtual machine named VM1 and has an IP address space of 10.0.0.0/16.
Subscription2 contains a virtual network named VNet2. VNet2 contains an Azure virtual machine named VM2 and has an IP address space of 10.10.0.0/24.
You need to connect VNet1 to VNet2.
What should you do first?
A. Move VNet1 to Subscription2.
B. Modify the IP address space of VNet2.
C. Provision virtual network gateways.
D. Move VM1 to Subscription2.
Answer: C
4.You are an administrator for a company. You have an Azure subscription that contains 10 virtual machines.
You need to ensure that you receive an email message when any virtual machines are powered off, restarted, or deallocated.
What is the minimum number of rules and action groups that you require?
A. Three rules and three action groups.
B. One rule and one action group.
C. Three rules and one action group.
D. One rule and three action groups.
Answer: C
5.You plan to use the Azure Import/Export service to copy files to a storage account.
Which two files should you create before you create the import job? (Each correct answer presents part of the solution. NOTE: Each correct selection is worth one point.)
A. An XML manifest file
B. A driveset CSV file
C. A dataset CSV file
D. A PowerShell PS1 file
E. A JSON configuration file
Answer: B, C
6.You have an Azure Active Directory (Azure AD) tenant named contosocloud.onmicrosoft.com. Your company has a public DNS zone for contoso.com.
You add contoso.com as a custom domain name to Azure AD. You need to ensure that Azure can verify the domain name.
Which type of DNS record should you create?
A. PTR
B. MX
C. NSEC3
D. RRSIG
Answer: B
TOP 50 Exam Questions

Exam