71801X Practice Test Questions - Avaya Messaging Support Certified Exam
The Avaya Messaging Support Certified Exam (71801X) is an important certification for professionals working in the field of messaging support. To help candidates prepare for the exam, PassQuestion has released the latest 71801X Practice Test Questions which cover all of the key topics and concepts which ensure that candidates study the most current and relevant information, which can increase their chances of passing the exam on the first try. Overall, our 71801X Practice Test Questions are a valuable resource for anyone preparing for the Avaya Messaging Support Certified Exam. They provide a comprehensive and up-to-date study aid that can help increase confidence and improve exam performance.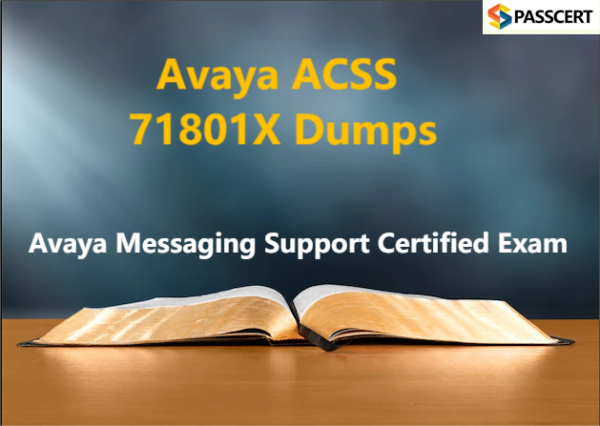 Avaya Messaging Support Certified Exam (71801X)
Avaya Messaging Support Certified Exam (71801X) is a requirement to earn the Avaya Messaging Support (ACSS - 7180) credential. This exam has 61 questions, and the minimum passing score is 67% (41 of 61 correct). The candidate has 90 minutes to complete this exam. This exam is designed to test a candidate's knowledge of Avaya messaging systems and their ability to support and troubleshoot these systems.
To prepare for the 71801X exam, it is recommended that you have at least six months of experience working with Avaya messaging systems and have a good understanding of the features and functions of these systems. In addition, you should have a strong foundation in networking and communications technologies, as well as knowledge of operating systems and databases.
Exam Objectives
Introduction and Key Features
Describe an Avaya Messaging solution.
List the key features of Avaya Messaging release 11.
Architecture
Describe the Avaya Messaging architecture.
Describe Avaya Messaging High Availability.
List the Avaya Messaging licensing, capacities, and deployment options.
Installation
Identify hardware, software and network specifications.
Describe the steps for an Avaya Messaging solution and Installation.
List the steps of a WebLM License Manager installation, and the Avaya Messaging Server prerequisites.
Integration
List the steps for a PBX Integration.
Configuration
Identify environmental, network, and feature requirements for Avaya Messaging.
Identify language options, and Web Portal capabilities.
Describe the Unified Messaging options available.
Troubleshooting
Identify troubleshooting and maintenance issues of Avaya Messaging.
View Online Avaya Messaging Support Certified Exam 71801X Free Questions
1. While doing a backup of the Avaya IX Messaging solution, which three folders must be chosen? (Choose three.)
A.UC\DB
B.UC\DBCom
C.UC\Licenses
D.UC\Messages
E.UC\Prompts
Answer: A, D, E
2. If the service is stopped manually, what will restart the SQL DB service automatically?
A.DBWatcher
B.SQLANYs_ASADBJJC
C.DBWatchdog
D.SALANYm_Consolidated
Answer: A
3. What is the order of Avaya IX Messaging server installation in an High Availability architecture solution?
A.Primary Server > WebLM Server > Consolidated server > All Secondaries
B.WebLM Server > Consolidated server > Primary Server > All Secondaries
C.WebLM Server > Primary Server > Consolidated server > All Secondaries
D.WebLM Server > Primary Server > All Secondaries > Consolidated server
Answer: C
4. Avaya IX Messaging stores the log files in which location?
A.IX-Messaging Install drive > UC > IX > Logs
B.IX-Messaging Install drive > UC > Logs
C.IX-Messaging Install drive > UC > OL > Logs
D.IX-Messaging Install drive > UC > Admin > Logs
Answer: B
5. Which two statements about Avaya IX Messaging integration with a third party PBX are true? (Choose two.)
A.The number of PBXs are limited by the license.
B.In multi-PBX/multi-node, PBX with MWI with SIP and with CTI are supported.
C.Integration of multiple PBXs is only supported if the PBXs support same type of MWI integration.
D.In multi-PBX/multi-node, all PBXs/nodes can use any trunk type for integration.
E.It is recommended that all PBXs/nodes use SIP trunks for integration.
Answer: B, E
6. Which Anti-virus software is validated by Avaya IX Messaging release?
A.Norton Anti-virus Corporate Edition
B.McAfee VirusScan
C.BitDefender
D.Microsoft Defender
Answer: A
TOP 50 Exam Questions

Exam