2020 New Using HPE OneView HPE2-T36 Dumps
Are you worried about your HPE2-T36 Using HPE OneView exam? PassQuestion provides the latest Using HPE OneView HPE2-T36 Dumps to help candidates prepare for the HPE Product Certified - OneView [2020] certification exam. Selecting PassQuestion Using HPE OneView HPE2-T36 Dumps can guarantee that you can in a short period of time to learn and to strengthen the professional knowledge of HPE2-T36 and pass Using HPE OneView HPE2-T36 exam with high score.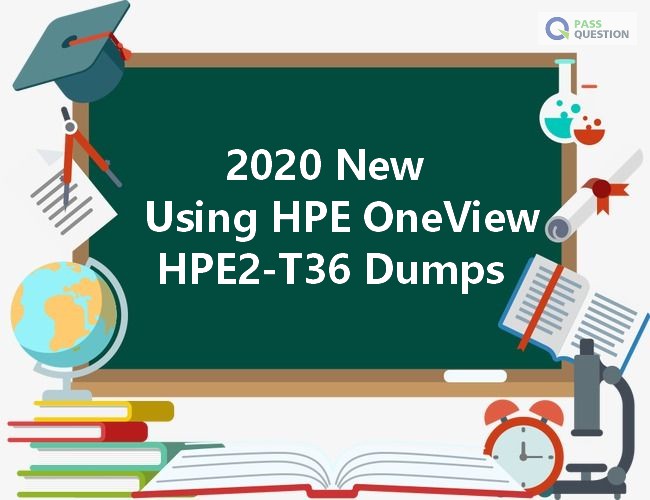 Exam Description
This certification tests candidates' knowledge and skills on designing, deploying, and operating the HPE OneView management suite as the management and provisioning control plane for HPE products and solutions.

Ideal Candidate For This Exam
HPE customers, partners, and employees who configure, implement, support, and use OneView to manage HPE Hybrid IT solutions. The minimally qualified candidate will have basic industry standard storage, server and networking skills. They will have familiarity with the HPE Hybrid IT product portfolio.
Exam Objectives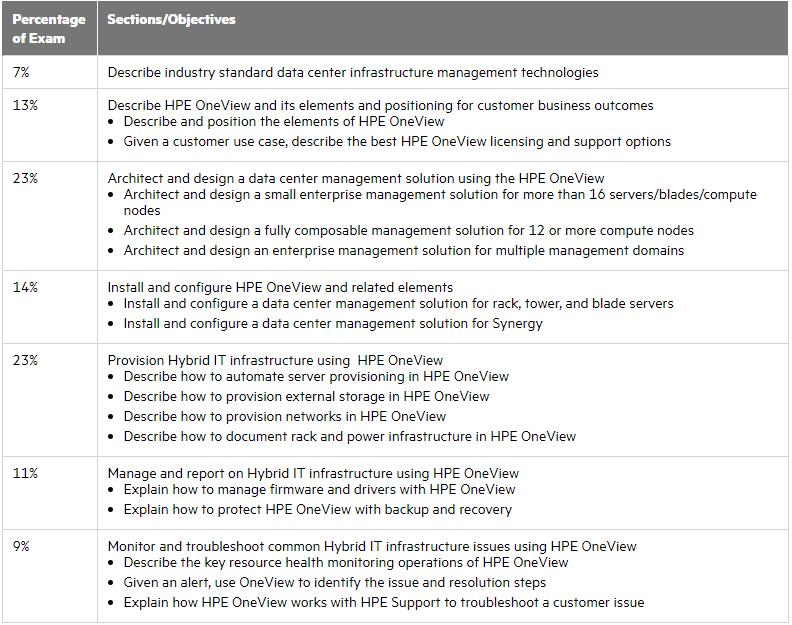 View Online Using HPE OneView HPE2-T36 Free Questions
1.What can be used to query the server hardware portion of the HPE OneView appliance database?
A. SQL Connect Client
B. REST API
C. JSON reader
D. OpenSource Editor
Answer: B
2.Which HPE OneView features are used by the HPE OneView for VMware vCenter plugin to simplify the process of deploying a complete vSphere cluster? (Choose two.)
A. Smart Update Manager
B. PowerShell Library
C. Intelligent Provisioning
D. Server Profile Templates
E. REST API
Answer: B,D
3.What is the best place to find installed firmware for all systems managed by HPE OneView?
A. HPE Service Pack for HPE ProLiant
B. HPE OneView predefined reports
C. HPE Insight Online
D. HPE OneView for Microsoft System Center
Answer: A
4.Which REST API headers are recommended when creating a new Ethernet network? (Choose two.)
A. Content-Type
B. X-API-Version
C. Accept-Language
D. Accept-CharSet
Answer: A,D
5.Where can an administrator select the firmware baseline for a specific Synergy compute node?
A. Logical Interconnect Group
B. Server Profile
C. Image Streamer
D. Intelligent Provisioning
Answer: B
6.Which enhanced security feature is unavailable within HPE OneView?
A. configure firewall rules
B. role-based access control
C. two-factor authentication
D. SNMP v3
Answer: A
TOP 50 Exam Questions

Exam