Top Cisco Certifications in 2018
Cisco certification is introduced by Cisco, a well-known network company, and the Cisco certification exams include written tests and experiments. The weight of the certificate is very high, and passing the exam gives network professionals the opportunity to prove their network knowledge and expertise. Passquestion offers you all kinds of Cisco certification exam questions and answers to help you get certified.
Cisco Certification Introduction
Cisco certification was introduced by Cisco, a well-known manufacturer in the network field. It is an international authority certification in the Internet field.
Cisco certification is divided into three levels: CCNA (Associate), CCNP (Professional), CCIE (Expert)
Note: CCIE does not say "advanced", said expert level
CCNA: Cisco Certified Network Associate
CCNP: Cisco Certified Network Professional
CCIE: Cisco Certified Internetwork Expert
The CCIE certification is an expert certification exam that was launched by Cisco in the United States in 1993. Recognized as the most authoritative certification in the IT industry, it is the top certification in the global Internetworking field.
After passing the CCIE certification exam, the world's only CCIE number is obtained and is permanently retained. The demanding certification rules make CCIE one of the most valuable certificates in the IT industry. Of course, it has become one of the most respected and difficult to obtain certificates. At present, only 50,000 people hold CCIE certification (including all directions of CCIE). .
Obtaining CCIE certification not only proves that your technology has reached the level of experts, has been recognized and affirmed by the industry, but also a symbol of honor and a manifestation of self-worth. Acquire CCIE certification to become the dream of every network technician.
CCNA Certifications:
CCNA Routing and Switching HOT
CCNA Cloud
CCNA Collaboration HOT
CCNA Cyber Ops HOT
CCNA Data Center HOT
CCNA Industrial
CCNA Security HOT
CCNA Service Provider
CCNA Wireless
CCNP Certifications:
CCNP Routing and Switching HOT
CCNP Cloud
CCNP Collaboration
CCNP Data Center HOT
CCNP Security HOT
CCNP Service Provider
CCNP Wireless
CCIE Certifications:
CCIE Routing & Switching: HOT
CCIE Collaboration
CCIE Data Center HOT
CCIE Security HOT
CCIE Service Provider
CCIE Wireless
CCIE Degin
Among the many CCIE, 80% are CCIE Routing & Switching, because CCIE Routing & Switching is the network foundation, which is the first CCIE selected by many network engineers.
Cisco Certification Exam Fee: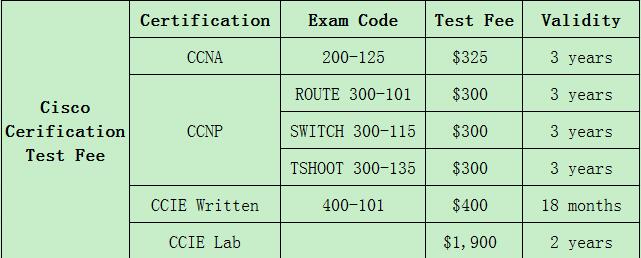 You will finds all kinds of hot Cisco Certification exam questions and answers to practice from Passquestion, all files come in pdf and software, our team will keep updated to make sure you always get the latest version to study and pass your Cisco exams successfully.
TOP 50 Exam Questions

Exam