Professional Workspace ONE Exam 2V0-61.20 Questions For VCP-DW 2020 Certification
VCP-DW 2020 Certification can be achieved after passing 2V0-61.20 Professional Workspace ONE Exam. PassQuestion new cracked Professional Workspace ONE Exam 2V0-61.20 Questions to help you prepare for your test well,it can help you gain your VCP-DW 2020 Certification confidently. Using PassQuestion complete and current set of 2V0-61.20 Questions and answers will pass the exam easily and save much energy and time for you! we guarantee your success for VMware 2V0-61.20 exam at the first attempt.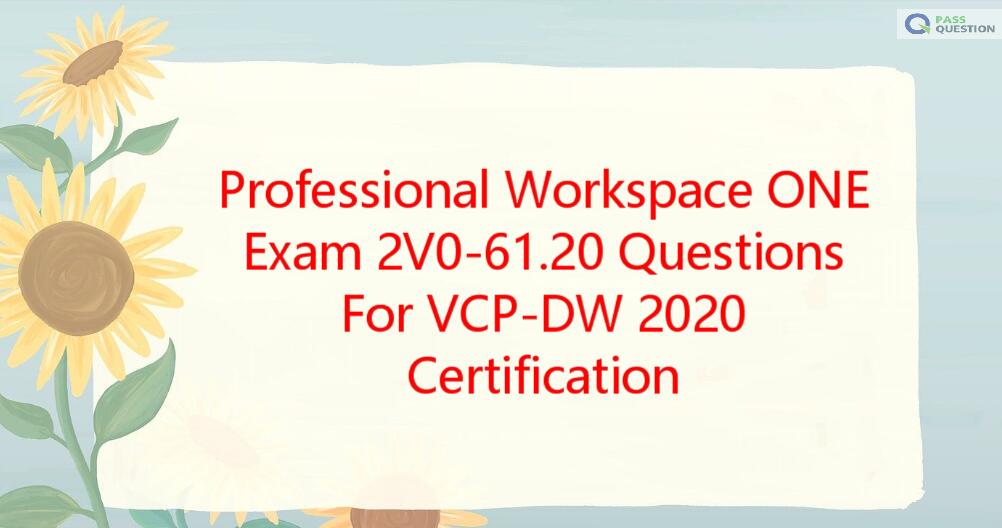 2V0-61.20 Exam Overview - Professional Workspace ONE exam
The VCP-DW 2020 certification validates that a badge earner can install, configure, manage, maintain, and and perform basic troubleshooting of VMware Workspace ONE and related solutions, as well as properly identify and differentiate any needed supporting products and components.
The Professional Workspace ONE exam (2V0-61.20) which leads to VMware Certified Professional – Digital Workspace 2020 certification is a 70-item exam, with a passing score of 300 using a scaled method. Candidates are given an appointment time of 105 minutes, which includes five-minute seating time and adequate time to complete the exam for non-native English speakers. Actual exam time is 100 minutes.
2V0-61.20 Exam Information
Exam Number: 2V0-61.20
Product: Workspace ONE
Number of Questions: 70
Duration: 105 Minutes
Passing Score: 300
Format: Single and Mutiple Choice,Proctored
Language: English
Associated Certification: VCP-DW 2020
2V0-61.20 Exam Objectives
Section 1 – Architecture and Technologies
Section 2 – Products and Solutions
Section 3 – Planning and Designing
Section 4 – Installing, Configuring, and Setup
Section 5 – Performance-tuning, Optimization, and Upgrades
Section 6 – Troubleshooting and Repairing
Section 7 – Administrative and Operational Tasks
View Online Professional Workspace ONE Exam 2V0-61.20 Free Questions
An organization has a split network comprised of a DMZ and an internal network.
Which Workspace ONE UEM edge service does VMware recommend to be deployed within the organization's internal network?
A. VMware Unified Access Gateway with (SEG v2)
B. VMware Unified Access Gateway with (VMware Tunnel Front-End)
C. VMware Unified Access Gateway with (VMware Tunnel Proxy)
D. VMware Unified Access Gateway with (VMware Tunnel Back-End)
Answer: C
Which is the default service lookup when configuring and integrating Lightweight Directory Access Protocol (LDAP) in VMware Identity Manager?
A. Active Directory Integrated Windows
B. Active Directory over LDAP
C. Enterprise System Connector
D. Enterprise OVA Connector
Answer: B
Which would an administrator use to configure the remote wiping of privileged corporate content and set notification thresholds when a minimum number of devices are wiped within a certain amount of time?
A. Notifications for Device Enroll/Unenroll
B. Notification for Device Blocked
C. Managed Device Wipe Protection
D. Compromised Protection Settings
Answer: C
Which domain attribute must be included to meet the SAML assertion requirement for Just-inTime (JIT) provisioning of users in the Workspace ONE Access service?
A. distinguishedName
B. userName
C. lastName
D. firstName
Answer: D
An administrator wants to create a new Workspace ONE Access Policy that is specific only to a newly created IP subnet.
Which three Workspace ONE Access Policy settings would the administrator set? (Choose three.)
A. network range
B. attribute type
C. authentication method
D. assignment method
E. device type
F. subnet range
Answer: A,C,D
TOP 50 Exam Questions

Exam