New CCNA 200-301 Exam Goes Live On February 24, 2020
Everyone knows that Cisco updates the certification tracks and levels. New certifications and exams will go live on February 24, 2020. As a associate-level exam, earning CCNA certification is the first step in preparing for a career in IT technologies. Based on the researched of the feedback of CCNA target audience and the value of CCNA certification, Cisco found that CCNA certification should focus on candidates who are starting their careers in networking. The primary goal for the Cisco CCNA certification is to give the fundamental knowledge about all the concepts and components of networking. However, upon completion of the research, Cisco observed a gap in the knowledge due to so many different domains. So Cisco will launch only one brief examination, which will result in retiring all the CCNA domains that focus on the fundamentals of networking on February 24, 2020. New CCNA 200-301 exam will be the only exam that covers a broad range of fundamentals for IT careers, based on the latest networking technologies, software development skills, and job roles.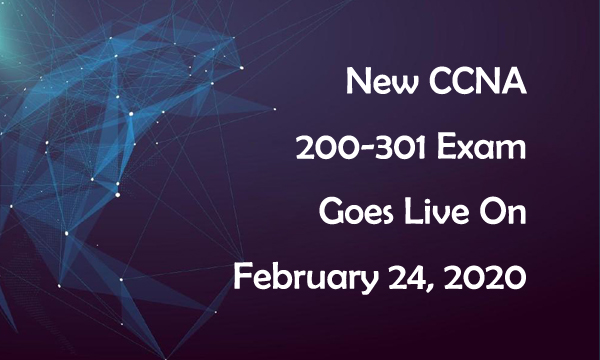 The Difference Between The Current CCNA And The New CCNA
The current CCNA certification contains multiple concentration exams for different learning paths, including CCDA (Cisco Certified Design Associate) certification as follows:
CCNA Cloud
CCNA Collaboration
CCNA Data Center
CCNA Industrial
CCNA Cyber Ops
CCNA Routing and Switching
CCNA Security
CCNA Service Provider
CCNA Wireless
CCDA (Cisco Certified Design Associate)
Based on the requirements of the current CCNA certifications, you need to complete the corresponding exams to prove you have the related skills. For example, CCNA Routing and Switching is a most popular CCNA certification, which will broaden your skill sets and ability to manage and optimize network systems. As Enterprises migrate toward controller based architectures, the role and skills required of a core network engineer are evolving and more vital than ever. To prepare for this network transition, the CCNA Routing and Switching certification will not only prepare you with the knowledge of foundational technologies, but ensure you stay relevant with skill sets needed for the adoption of next generation technologies. There are two choice to complete your CCNA Routing and Switching certificaiton:
You can choose to pass 100-105 and 200-105 the two exams;
You can choose to pass 200-125 exam.
But all these three exams will be retired on February 23, 2020, you need to make sure to pass the required exams before February 24, 2020.
Or, you can wait for new Cisco CCNA 200-301 exam, which goes live on February 24, 2020. There are nice Cisco certifications of ten we mentioned above will migrate to the new CCNA program. Currently, only CCNA Cyber Ops certification has no changes. Cisco continues to evaluate the certification tracks and programs, including CCNA Cyber Ops, to ensure we are providing professionals with the most up-to-date skills needed to succeed in today's marketplace. Cybersecurity skills are critical and will continue to be an important area for Cisco.
Other nine current CCNA certifications will be replaced by new CCNA certification. After February 23, 2020, you only need to answer 200-301 Implementing and Administering Cisco Solutions (CCNA) exam, which covers networking and security fundamentals, as well as automation and programmability.
The Prerequisites at the Professional Level Certifications are Being Removed
The current CCNA certifications always are required as the prerequisite for the professional certifications. To enable greater flexibility and offer more choices for candidates, the CCNA certification will no longer be required as a prerequisite for professional-level certifications, giving learners the ability to start where they choose in their learning journey.
Not only CCNA certification has big changes, the Cisco update on February 24, 2020 affect all Cisco certification tracks and levels, including CCNA, CCNP, CCIE. Because the prerequisites at the Professional Level are being removed, there are no formal prerequisites for the CCNP exams, which is another big change in Cisco upgrade. But structurally they remain about the same as before. You are still required to pass a core exam and one of three to eight concentration exams to earn your CCNP.
New CCNA 200-301 exam goes live on February 24, 2020. If you have started working toward the current certification, you are encouraged to keep going. If you earn the current CCNA certifications before February 24, then on February 24, you will keep your CCNA and you will receive the new CCNA certification.
TOP 50 Exam Questions

Exam