MTA Cloud Fundamentals 98-369 Pratice Test Questions
To help you pass your MTA 98-369 exam, Passquestion MTA Cloud Fundamentals 98-369 Pratice Test Questions contain all the topics and the questions that will be asked in the real Microsoft 98-369 exam. You will get both 98-369 pdf along with free software which will be really helpful in passing your 98-369 Cloud Fundamentals exam.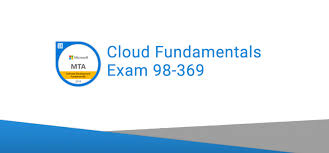 98-369 Exam - MTA Cloud Fundamentals
MTA is a recognized Microsoft certificate and also is a prerequisite for more advanced certificates such as MCSA and MCSE in the cloud Path or productivity (Office 365) path. MTA cloud is your first step in your Microsoft Cloud career and high demand job opportunities.Designed and instructed by a long years Microsoft Expert, Certified Consultant, and Cloud Architect.
Prepare for the MTA: Microsoft Cloud Fundamentals (98-369) exam with this learning path. Focus on technical skills related to supporting cloud users, troubleshooting common Office 365 and Office 2016 issues, administering Office 365 and Intune, and managing antispam and antimalware protection. The skills learned in this path can serve as a stepping stone to preparing for future MCSA certification.
Cloud Fundamentals 98-369 Exam Skill Measured
Understand the cloud (20–25%)
Enable Microsoft cloud services (20–25%)
Administer Office 365 and Microsoft Intune (15–20%)
Use and configure Microsoft cloud services (20–25%)
Support cloud users (15–20%)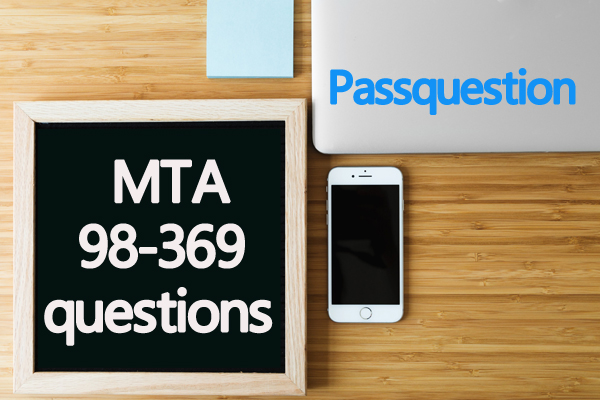 Share Free MTA 98-369 Exam Questions With Answers:
1.What is the minimum version of Internet Explorer needed to ensure that Microsoft Office 365 web-based applications have full functionality?
A. Internet Explorer 8
B. Internet Explorer 9
C. Internet Explorer 10
D. Internet Explorer 11
Answer: C
2.You are an IT intern for a retail company. The staff is not receiving inbound messages, and clients are not receiving the staff's outbound messages.
Which two features of Microsoft Exchange Online should you use to diagnose the issue? Choose two.
A. Outlook Web App (OWA) delivery reports
B. Exchange Online Protection
C. Endpoint Protection
D. Message Trace tool
Answer: AD
3.You are the Microsoft Lync administrator for your company. An employee needs to use Lync Online to call two external Skype contacts simultaneously. The employee can only call one contact at a time.
What should you advise the employee to do?
A. Turn on external communication
B. Check the formatting of her user name
C. Invite contacts to a Lync Meeting
D. Verify that the Skype users are signed in to a Microsoft Account
Answer: D
4.You are the Microsoft Lync Online administrator for your company. A customer has reported an issue when signing in to the company's Lync Online Service. When the customer attempts to sign in, the following error message is returned: "The server is temporarily unavailable". The server is up, and other customers are connected to it.
What is likely causing the connection issue?
A. The user has the incorrect Lync version
B. The user has entered the wrong user name
C. DNS is configured incorrectly
D. The user does not have a Lync license
Answer: D
5.This question requires that you evaluate the underlined text to determine if it is correct.
A user management admin in Microsoft Office 365 Business Premium can reset passwords for users and service admins.
Instructions: Review the underlined text. If it makes the statement correct, select "No change is needed". If the statement is incorrect, select the answer choice than makes the statement correct.
A. No change is needed
B. billing
C. global
D. password
Answer: D
6.You are an IT intern for a law firm. The firm is evaluating the use of Microsoft Intune to manage the firm's computing devices.
Which two tasks can be performed by using Intune? Choose two.
A. deploying a Windows operating system
B. deploying software updates
C. managing Android devices
D. managing Windows servers
Answer: BC
TOP 50 Exam Questions

Exam