MB-900 Practice Test Questions - Microsoft Dynamics 365 Fundamentals
Preparing for MB-900 Microsoft Dynamics 365 Fundamentals Exam? Passquestion Microsoft MB-900 Practice Test Questions will help you prepare for Official Dynamics 365 Certification Exam MB-900: Dynamics 365 Fundamentals. Passquestion can promise that you can 100% pass your exam to attend Microsoft certification MB-900 exam.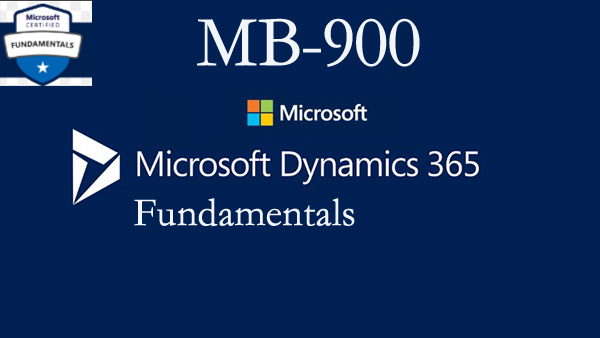 MB-900 Exam Information - Microsoft Dynamics 365 Fundamentals
If you passed MB-900 Microsoft Certified: Dynamics 365 Fundamentals exam, you can prove that you understand the apps available in Microsoft Dynamics 365, deployment and release management, and the fundamentals of Dynamics 365 licensing, onboarding, and support.
MB-900 exam is designed for candidates looking to demonstrate foundational knowledge of Microsoft Dynamics 365, Power Platform applications, and the cloud computing model. This exam will cover the considerations and benefits of adopting Dynamics 365, the Power Platform, and cloud services in general. This exam can be taken as a precursor to Dynamics 365 certifications and training.
Skill Measured In Microsoft MB-900 Exam
Understand Dynamics 365 (40-45%)
Understand cloud concepts (25-30%)
Understand deployments and releases (20-25%)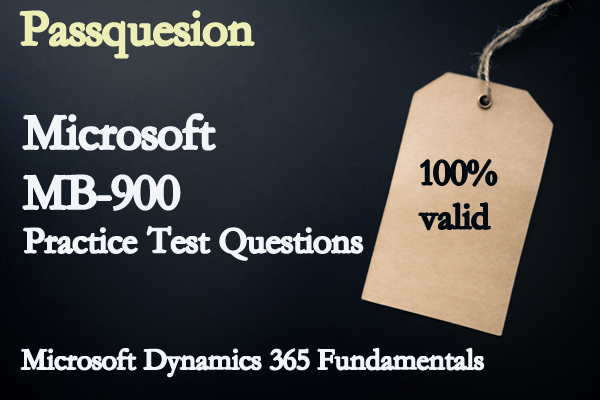 Download Microsoft MB-900 Practice Test Questions:
1.You need to select a Dynamics 365 for Customer Engagement application to help your organization efficiently track, manage, and deliver project-based services.
Which application should you select?
A. Customer Service
B. Field Service
C. Project Service automation
D. Sales
Answer: B
2.You are an administrator in Dynamics 365 for Customer Engagement apps.
You need to create solution components using customization tools.
Which two components can be included in a solution? Each correct answer presents a complete solution. NOTE: Each correct selection is worth one point.
A. audit logs
B. sitemap
C. team
D. business unit
E. global option sets
Answer: A,E
3.You are a system administrator for an organization that has Dynamics 365 for Sales and Dynamics 365 for Customer Service. A user who logs in to the Microsoft 365 portal sees only Dynamics 365 for Sales.
You need to enable the user to see Dynamics 365 for Customer Service.
What are two possible ways to achieve this goal? Each correct answer presents a complete solution.
NOTE: Each correct selection is worth one point.
A. In Dynamics 365 model driven apps, enable the features.
B. In PowerApps, create the application.
C. Type the URL of the web application for Dynamics 365 for Customer Service.
D. Assign the correct security role to the user's ID
E. Add the correct licensing to the user ID in Active Directory.
Answer: A,D
4.This question requires that you evaluate the underlined text to determine if it is correct.
The Customer Service Hub app is available on a desktop browser and on a mobile device. It can be used for managing cases and Knowledge articles.
Review the bold text. If it makes the statement correct, select "No change is needed." If the statement is incorrect, select the answer choice that makes the statement correct.
A. No change needed.
B. optimizes viewing for desktop browsers only.
C. is available on a desktop browser for case management, but not for managing knowledge articles.
D. does not provide the ability to add an activity to a case on a mobile device.
Answer: A
5.You need to use Microsoft Flow to perform data-management tasks when users interact with records in Dynamics 365.
Which three types of triggers can you use? Each correct answer presents a complete solution.
NOTE: Each correct selection is worth one point.
A. on demand
B. when a record is created
C. on request
D. when a record is updated
E. when a record is deleted
Answer: A,B,D
6.A company wants to automatically send a company-wide email every Sunday to remind employees to submit expenses.
You need to configure the Microsoft Flow type that requires the least amount of user interaction and the highest level of consistency.
Which Flow type should you configure?
A. solution-aware
B. automated
C. scheduled
D. business process
E. button
Answer: D
Related Exams:
MB-200 Microsoft Dynamics 365 Customer Engagement Core
MB-210 Microsoft Dynamics 365 for Sales
MB-220 Microsoft Dynamics 365 for Marketing
MB-230 Microsoft Dynamics 365 for Customer Service
MB-240 Microsoft Dynamics 365 for Field Service
TOP 50 Exam Questions

Exam