ACSS 76940X PDF Questions - Avaya Converged Platform Support Exam
Are you preparing for 76940X Avaya Converged Platform Support Exam? PassQuestion is a site that provides ACSS 76940X PDF Questions to the people who want to take the exam and we can help the candidates to pass the Avaya 76940X exam effectively.The ACSS 76940X PDF Questions include all questions that can appear in the real exam. So it can guarantee you pass your ACSS 76940X exam at the first time. PassQuestion 76940X questions and answers will help you prepare well for your coming 76940X Certification Exam with confidence.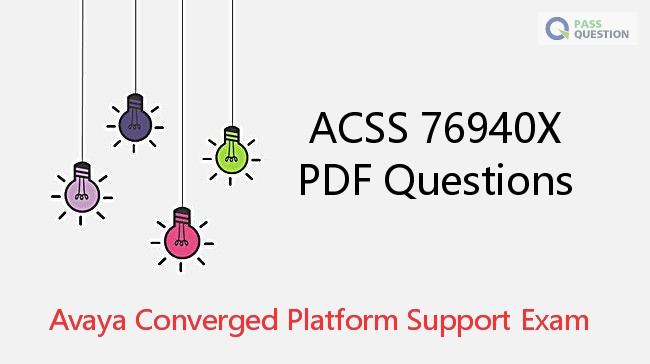 76940X Exam Overview - Avaya Converged Platform Support Exam
The Avaya Converged Platform Support Exam (76940X) is a requirement to earn the Avaya Solutions Platform credential. The ACSS - Avaya Solutions Platform credential validates the candidate has achieved an intermediate to advanced level of proficiency required to diagnose, isolate and support multiple products within the ASP 4200 Series.This exam has 56 questions and the minimum passing score is 64%. The candidate has 105 minutes to complete this exam.To earn ACSS - Avaya Solutions Platform (ACSS-7694) credential the candidate must hold the ACIS-7594 credential and pass the 76940X - Avaya Solutions Solutions Support Exam.
ACSS - Avaya Solutions Platform 76940X Test Objectives
Architecture
Describe the Components that make up the ASP 4200 product.
Identify the differences between a Co-delivery and a Full Avaya Support installation.
Methodology and Support Tools
Explain how to use the Avaya support ticketing tool.
Use the appropriate logs, tools, and files to collect a package of information that will help in troubleshooting.
Describe the next level interfaces used on the OEM components (PDI, Servers, VMware, EMC, etc.) for troubleshooting.
Maintenance
Download and apply Server and Storage updates.
Download and apply PDU and Switch updates.
Download and upgrade VMware vCenter and ESXi platforms.
Identify the correct procedures used in preventative maintenance.
Perform backup and restore of solutions and applications related to ASP 4200.
Troubleshooting
Describe general troubleshooting tasks.
Describe Quick Fix tasks.
Identify unsupported configurations in VMware.
Describe how to use PSN and KT documents during troubleshooting tasks.
View Online Avaya Converged Platform Support Exam 76940X Free Questions
1.A support engineer is tasked with working on an ACP 4200 4.0 system.
Which three pieces of equipment would the engineer expect to find in the rack that will differentiate the system from an earlier release of PodFx 3.X or CPOD 2.X? (Choose three.)
A. Dell R601 Servers
B. VSP 4824
C. HP Nimble Storage CS1000
D. HP Proliant DL360 G10 Servers
E. VSP 7254
Answer: BCD
2.Which equipment is standard in a new ACP 4200 4.0?
A. IP 7254
B. VSP 4850
C. IP 8284
D. VSP 7024
Answer: B
3.Which benefit does the available G450 Gateway provide to the ACP 4200 solution?
A. IP to H.323 translation
B. SIP to IP transition
C. IP to POTS transition
D. SIP to SIP negotiation
Answer: B
4.A support engineer is assigned to provide maintenance services for an ACP 4200 4.0 system.
Which type of organization could the engineer expect to be assigned to?
A. Small Business services
B. Service Providers
C. Large Enterprises
D. Large Enterprises & Service Providers
Answer: C
5.To get a visualization of the hardware components, and their positions in the ACP 4200 rack, which management application can an engineer use?
A. MSC
B. Orchestrator
C. vCenter Client in Flash mode
D. vCenter Client in HTML5 mode:
Answer: B
6.A support engineer logs into the System Manager (SMGR) application on an ACP 4.0 system with the intention of checking VPFM warning messages for the VSP switch. The engineer is unable to see the VPFM link in SMGR.
What could be causing this Problem?
A. The VPFM link was removed from SMGR as part of the upgrade of the system to ACP 4.0.
B. The engineer's SMGR account has insufficient access privileges to launch VPFM.
C. The VPFM link has been renamed as Orchestrator in ACP 4.0.
D. The engineer should connect to VPFM directly and not through SMGR.
Answer: B
TOP 50 Exam Questions

Exam