72201X Practice Test Questions - Avaya Aura Core Components Support Certified Exam
72201X Avaya Aura Core Components Support Certified Exam is a new exam replacement of 72200X which has been retired on 30 April 2022. You can get the latest 72201X Practice Test Questions from PassQuestion to review for the real test and ensure you are prepared for your exam easily. Our 72201X Practice Test Questions provide you with the essential knowledge you need about the Avaya Aura Core Components Support Certified Exam pattern.Studying the 72201X Practice Test Questions multiple times can help you get a better score. These 72201X exam questions and answers cover all of the Exam subjects so that you may pass the Avaya 72201X exam with ease.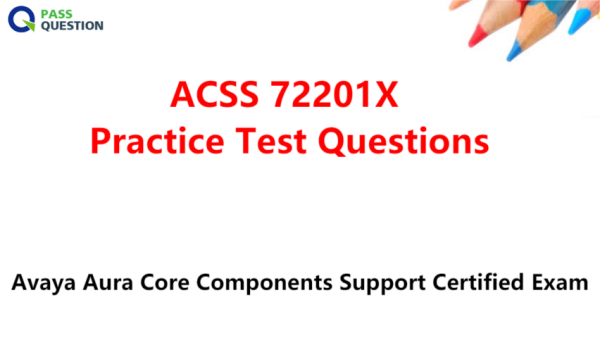 Avaya Aura Core Components Support Certified Exam (72201X)
The Avaya Aura Core Components Support Certified Exam (72201X) is a requirement to earn the Avaya Aura Core Components Support (ACSS-7220) credential. This exam has 66 questions, and the minimum passing score is 68% (44 of 66 correct). The candidate has 105 minutes to complete this exam.
72201X Exam Objectives
This exam measures knowledge in the following areas:
Avaya Core Architecture
Define architectures for Avaya Aura System Manager (SMGR), Avaya Aura Session Manager (SM), Avaya Aura Communication Manager (CM), Avaya Aura Media Server (AAMS), and Avaya Aura Device Services (AADS).
Differentiate the differences and troubleshooting aspects of private versus public network environments.

Fundamental Voice Network Processes and Standards
Describe Call and Media Processing, Trust Management, and SIP Signaling.
Identify Call Routing, SMGR database Synchronization and Replication.
Define Configured Network Regions, IP Codecs and Call Admission Control (CAC) / Shared Bandwidth Management.
Describe how to view SIP Registration, Subscriptions/Notifications, PPM messages, and CM shortcuts in a SIP trace.
Avaya Aura Core Components
Describe how to identify and use the tools available for the Avaya Aura Core components.
Validate the status of CM license and synchronization, health, trunks and signaling groups, and list how to view CM certificates.
Validate AAMS various statuses, alarms, logs & monitoring capabilities.
Identify CM's Software Version, existing CM restarts, existing nodes, and perform a list trace.
Describe how to obtain an alarm report, and access CM ECS logs.
Determine SM license status, software version, and SM100 Status.
Describe Security Module detail in a SIP trace, how to download a traceSM log file, and how to view and export SM alarms, and events.

Call and Message Flows
Describe call flows for SIP-to-SIP and SIP-to-H.323 endpoints on a private network, and define a call flow for a SIP Office Worker to SIP Remote Worker.
Troubleshooting
Determine how to verify and troubleshoot current system status, validate existing configuration, verify which devices or systems are not working, and identify / resolve issue for Avaya Aura Core components.
Avaya Aura Core Components Support
The Avaya Aura Core Components Support validates a candidate has achieved an advanced understanding of and competence in troubleshooting, maintaining and administration of Avaya industry leading communications products.
The Avaya Certified Support Specialist gathers and interprets system data, identifies issues, and makes changes to ensure maximum availability and performance of a customer's network. The Support Specialist uses their advanced Avaya troubleshooting, maintenance, and administration capabilities to efficiently and accurately resolve customer's communication issues.
The credential is valid for 2 years and available to Avaya Partners, Customers and Associates.
To obtain the credential the following needs to be met:
Hold the Avaya Aura Core Components Implement (ACIS - 71201X) credential
Pass 72201X - Avaya Aura Core Components Support Certified Exam
TOP 50 Exam Questions

Exam