Java SE 11 Programmer I 1Z0-815 Exam Questions
To ensure that you're effectively preparing for the 1Z0-815 exam, PassQuestion new updated Java SE 11 Programmer I 1Z0-815 Exam Questions to help you master the 1Z0-815 Certification knowledge by clearly showing you the key points and real questions required in the exam. You are guaranteed to pass the first step for your Oracle Certified Professional: Java SE 11 Developer Certification.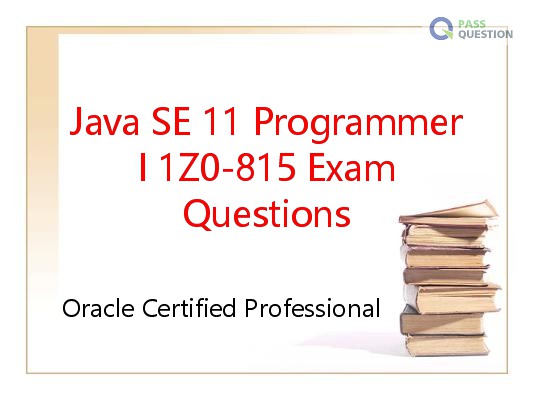 1Z0-815 Exam Overview - Java SE 11 Programmer I
Java SE 11 Programmer 1Z0-815 exam involves the candidate answering a total of 80 multiple choice-based questions within the duration of 180 minutes (3 hours). To pass the examination and gain the certification, the participating candidate needs to score at least 63% of the total marks. This means that out of the 80 questions, to pass the examination, a candidate has to answer 51 questions correctly at a minimum. The registration fee for the 1Z0-815 certification exam is US$150 currently.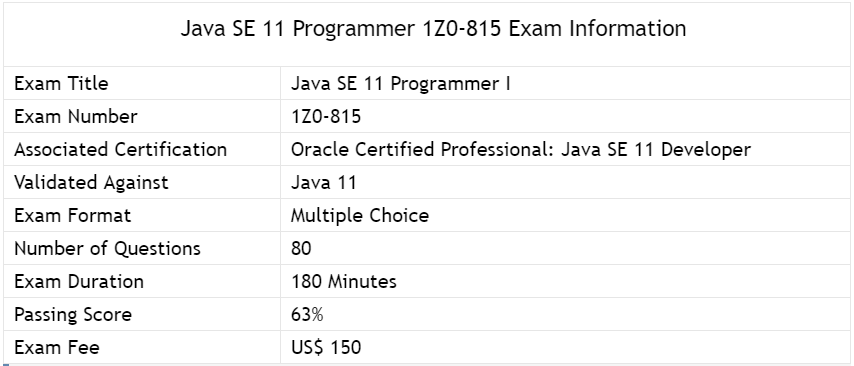 To gain the Oracle Certified Professional title, you require to attempt and pass both Java SE 11 Programmer I 1ZO-815 and Java SE 11 Programmer II 1Z0-816 examinations. If you've already passed the 1ZO-815 exam, you should start the 1Z0-816 exam preparation.
Java SE 11 Programmer I 1Z0-815 Exam Objectives
Understanding Java Technology and environment
Working With Java Primitive Data Types and String APIs
Working with Java Arrays
Creating and Using Methods
Reusing Implementations Through Inheritance
Handling Exceptions
Creating a Simple Java Program
Using Operators and Decision Constructs
Describing and Using Objects and Classes
Applying Encapsulation
Programming Abstractly Through Interfaces
Understanding Modules
View Online 1Z0-815 Free Questions From PassQuestion Java SE 11 Programmer I 1Z0-815 Full Questions
1.Given: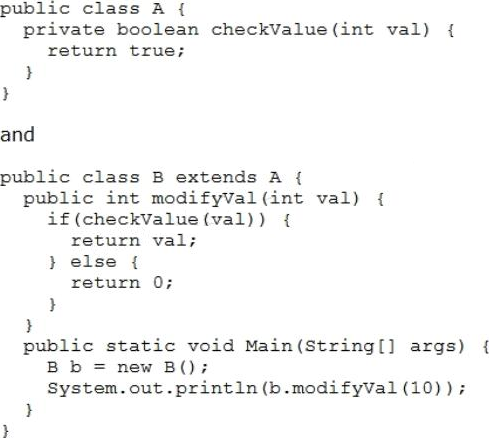 What is the result?
A. nothing
B. It fails to compile.
C. 0
D. A java.lang.IllegalArgumentException is thrown.
E. 10
Answer: B
2.Given: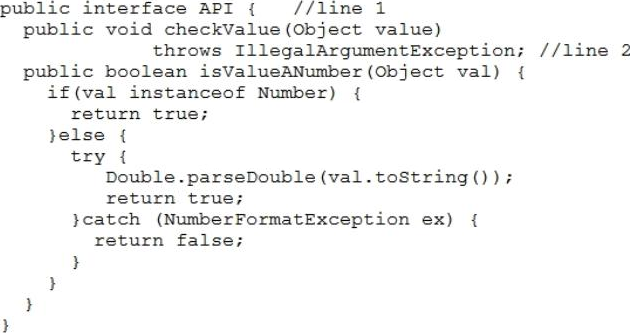 Which two changes need to be made to make this class compile? (Choose two.)
A. Change Line 1 to an abstract class:public abstract class API {
B. Change Line 2 access modifier to protected:protected void checkValue(Object value)throws IllegalArgumentException;
C. Change Line 1 to a class:public class API {
D. Change Line 1 to extend java.lang.AutoCloseable:public interface API extends AutoCloseable {
E. Change Line 2 to an abstract method:public abstract void checkValue(Object value)throws IllegalArgumentException;
Answer: C,E
3.Which two modules include APIs in the Java SE Specification? (Choose two.)
A. java.logging
B. java.desktop
C. javafx D. jdk.httpserver
E. jdk.jartool
Answer: A,D
4.Given:
What is the output?
A. 300
B. Exception
C. 200
D. 100
Answer: A
5.Which two statements are true about the modular JDK? (Choose two.)
A. The foundational APIs of the Java SE Platform are found in the java.base module.
B. An application must be structured as modules in order to run on the modular JDK.
C. It is possible but undesirable to configure modules' exports from the command line.
D. APIs are deprecated more aggressively because the JDK has been modularized.
Answer: A,B
6.Given the code fragment:

What is the result?
A. -1 : 2
B. 2 : -1
C. 2 : 3
D. 3 : 0
Answer: A
TOP 50 Exam Questions

Exam